Constantine Quilts
Welcome !
Constantine Quilts is a home based business that caters to quilters of all ages and experiences. I initially commenced teaching at home on our farm in the beautiful area of the Yorke Peninsula, South Australia. This was to encourage young mums to learn this wonderful craft. Here in my area it is not easy to attend classes with the cost of childcare or babysitters, so mum's are welcome to bring their preschoolers with them whilst they sew & learn.

From this I have developed my own patterns and started dyeing my own fabrics that are used in some of the pattern packs.

Books are a passion & soon became a priority in the business to provide to local quilters and students & are now available online to you.

As the business grows more patterns & packs will become available.

The newest addition to the business is an American Professional Quilting Systems Ultimate 1 quilting machine. I am now able to help you finish all those gorgeous quilts you have in your cupboard!! Check the machine quilting page for more details.

My first published quilt is 'Emma's Flower Garden' in the Craftworld Book - Bright & Beautiful Quilts. I have another one 'Teddy Bear, Teddy Bear' that is in print in the May issue of Australian Patchwork & Quilting magazine.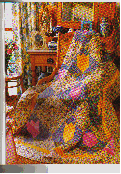 Bright & Beautiful Quilts published by Craftworld Books a division of

Emma's Flower Garden
Please sign my guestbook!

<! -- Begin Quilt A Round code fragment --> <! -- End Quilt A Round code fragment -->
© Constantine Quilts 2000.2001,2002 No part of these pages may be reproduced in any form without written permission from the author.
Last updated June 05, 2002